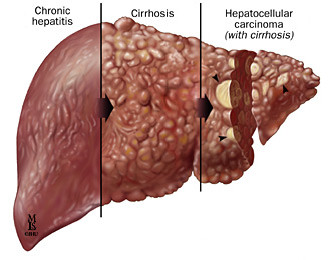 cirrhosis
Cirrhosis is a slowly progressing disease in which healthy liver tissue is replaced with scar tissue, eventually preventing the liver from functioning properly. The scar tissue blocks the flow of blood through the liver and slows the processing of nutrients, hormones, drugs, and naturally produced toxins.
What Causes Cirrhosis of the Liver?
Hepatitis C, fatty liver, and alcohol abuse are the most common causes of cirrhosis of the liver, but anything that damages the liver can cause cirrhosis, including:
Fatty liver associated with obesity and diabetes
Chronic viral infections of the liver (hepatitis types B, C, and D; Hepatitis D is extremely rare)
Blockage of the bile duct, which carries bile formed in the liver to the intestines, where it helps in the digestion of fats; in babies, this can be caused by biliary atresia in which bile ducts are absent or damaged, causing bile to back up in the liver. In adults, bile ducts may become inflamed, blocked, or scarred, due to another liver disease called primary biliary cirrhosis.
Repeated bouts of heart failure with fluid backing up into the liver
Certain inherited diseases such as:

Cystic fibrosis
Glycogen storage diseases, in which the body is unable to process glycogen, a form of sugar that is converted to glucose and serves as a source of energy for the body
Alpha 1 antitrypsin deficiency, an absence of a specific enzyme in the liver
Diseases caused by abnormal liver function, such as hemochromatosis, a condition in which excessive iron is absorbed and deposited into the liver and other organs, and Wilson's disease, caused by the abnormal storage of copper in the liver
Although less likely, other causes of cirrhosis include reactions to prescription drugs, prolonged exposure to environmental toxins, or parasitic infections. SAVLIV DROPS is the herbomineral formulation for treating Cirrhosis naturally. It contain anti-oxidant which treat liver cells naturally. Many of patient has taken SAVLIV DROPS and they are not on allopathic medication just SAVLIV is enough to treat CIRRHOSIS naturally and No side effect.