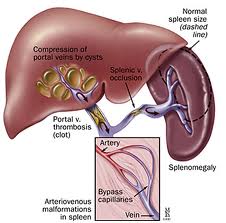 Fatty liver, or steatosis, is a broad term that describes the buildup of fats in the liver. Having fat in your liver is normal, but if more than five to 10 percent is fat, then it is called fatty liver disease.
Fatty liver is a reversible condition and usually goes away on its own. Fatty liver often has no symptoms and does not cause any permanent damage.
The liver is the second largest organ in the body. The liver's function is to process everything we eat or drink and filter any harmful substances from the blood. If too much fat has accumulated in the liver then this process is interfered with. The liver commonly repairs itself by rebuilding new liver cells when the old ones are damaged. When there is repeated damage to the liver, permanent scarring takes place. This is called cirrhosis.